| | |
| --- | --- |
| | |
| Elementary School Congressional Hearing Video | Judges' Orientation Video |


The Simulated Congressional Hearing is the culminating activity for the We the People
program. The entire class, working in cooperative teams, prepares and presents statements before a panel of community representatives acting as a congressional committee. Students then answer follow-up questions posed by the committee members. The format provides students an opportunity to demonstrate their knowledge and understanding of constitutional principles while providing teachers with an excellent means of evaluation.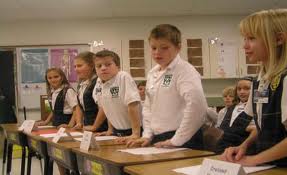 Sample Score Sheet 
To download Sample Score Sheet 

 click here 

Class Summary Score Sheet
To download Class Summary Score Sheet 

 click here 

Scoring Guide
To download Scoring Guide 

 click here 

Scoring Criteria
To download Scoring Criteria 

 click here 

Congressional Hearings Questions
To download Elementary Hearings Questions  click here