The We the People program curriculum includes the textbook, a resource center, supplemental lesson plans and other Center for Civic Education resources. The curriculum provides upper elementary, middle, and high school students with a course of instruction on the history and principles of the United States constitutional democracy. Critical thinking exercises, problem-solving activities, and cooperative-learning opportunities help develop intellectual and participatory skills while increasing students' understanding of government institutions and fostering attitudes that students need to participate as effective, responsible citizens.
Resource Center
The Resource Center offers students and teachers links to historic court cases, primary documents and other learning materials to help prepare for the simulated congressional hearing.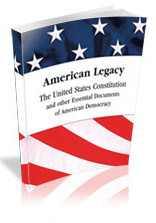 Other Publications
We offer a full array of materials including books on public policy, historical documents, and more!