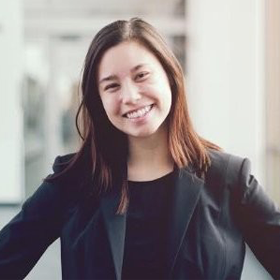 Sarah Atkinson
Finance and Human Resources Manager
Sarah Atkinson is the Center for Civic Education's Finance and Human Resources Manager. She is responsible for the financial and human resources management of the Center as the organization grows and evolves. As part of the Center's operational and financial divisions, Atkinson is crucial to the implementation of the Center's strategic goals and initiatives, helping to advance the Center among its employees, leadership, and external stakeholders.

With a double major in Finance and Supply Chain, Atkinson graduated from the University of Minnesota's Curtis L. Carlson School of Management. Atkinson started her career in banking, specializing in floorplan financing, asset-based lending, and technology finance. In her free time, Atkinson volunteers at various nonprofits to give back to her community. After several years in banking, she decided that it was time to pursue nonprofit as a full-time career. She hopes to bring her business, finance, and nonprofit experience to help grow and support the Center.

Atkinson is passionate about making people's lives a little easier and helping others to feel at ease, with the skills she's learned in a fast-paced, corporate environment. She is comfortable leading the charge on any initiative, but not afraid to ask for help when needed.
Email: satkinson@civiced.org