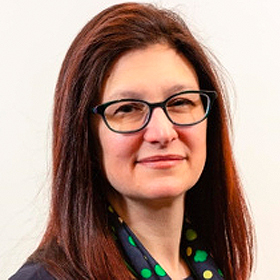 Mara Tolas
Lillian B. and Martin J. Jarvis Director of Development
Mara Tolas is the Lillian B. and Martin J. Jarvis Director of Development. Dedicated to engaging friends of the Center and supporters of civic education, she works to advance the mission by deepening relationships and connecting people with opportunities to create significant positive impact.
Tolas joined the Center from her previous role as Director of Development for Girl Scouts Heart of New Jersey, where she supported youth leadership development, capping her tenure by posting the most funds raised in the history of the organization. Under her direction, the organization successfully diversified its revenue, growing both private and public support. With a focus on increasing reach and services provided to underserved communities, Tolas designed and implemented compelling annual giving campaigns that secured an increase in both the number and giving level of individual donors. Her work to creatively engage multiple Fortune 500 companies yielded highly impactful partnerships, generating revenue to launch large projects such as the organization's Mobile STEM Experience.
Tolas holds a BA in psychology and a Master's in Applied Social and Community Psychology from Fairleigh Dickinson University.
Email: tolas@civiced.org