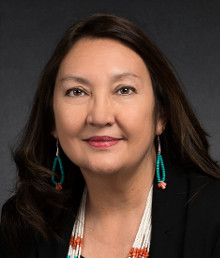 Terry Mason Moore, Director
Terry Mason Moore is an enrolled member of the Osage Nation. She has served as Assistant Principal Chief of the Osage Nation, as a council member of the 31st Osage Tribal Council, and as Osage Nation Gaming Commissioner. She currently serves as General Counsel to the Office of the Chief and to Osage Casinos. She has practiced federal Indian law since 1983 as an attorney, and has served since 1995 as tribal judge or appellate justice for several other tribes.

She obtained a Bachelor of Science in Management from Northeastern State University, a Juris Doctorate from the University of New Mexico School of Law, and a Master of Business Administration from the University of Minnesota. She studied International Law and Comparative Law at Oxford University in England.

Terry is a board member of the Native American Cultural and Education Authority which oversees the First Americans Museum in Oklahoma City, a member of the Board of Trustees for the Oklahoma Bar Foundation, Chair of the Advisory Board for Pawnee-Osage CASA (Court Appointed Special Advocates serving the Pawnee and Osage tribal and county courts), Chair of the Ponca Tribal Tax Commission, Gaming Commissioner for the Shawnee Tribe, and a member of the Board of Control for Fairfax Medical Facilities Inc.

She has been a frequent speaker and presenter on tribal sovereignty, tribal courts, and ethics.

Terry resides in Fairfax, Oklahoma, with her husband Ted. They have four grown children and five grandchildren.