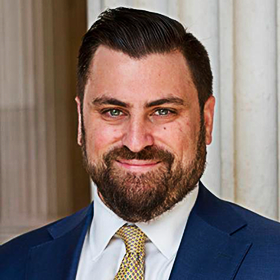 Mark Ritacco is the Chief Government Affairs Officer for the National Association of Counties. In this role, he spearheads NACo's congressional and executive branch outreach, coalition building, and advocacy efforts for its members and the 3,069 counties across America.
With over a decade of experience on Capitol Hill, including stints in both the U.S. House and Senate, Mark blends strategic insight and political acumen in fulfilling NACo's mission to strengthen America's counties. Prior to NACo, he served as Director of Strategic Initiatives for U.S. Senator Chris Murphy. He leveraged Murphy's position on the Committee on Appropriations to cultivate diverse, bipartisan relationships and build coalitions to pass critical economic policies, secure federal investments in important local projects, and shape regulations.
Throughout his career, Mark has remained committed to advancing government solutions to the most pressing challenges facing America today and into the future. He is on the Board of Directors for the Center for Civic Education, whose mission is to develop the next generation of enlightened and responsible citizens.
A native of Connecticut, Mark currently resides in Montgomery County, Maryland, with his wife and two sons. He is a graduate of the University of Maryland, College Park.