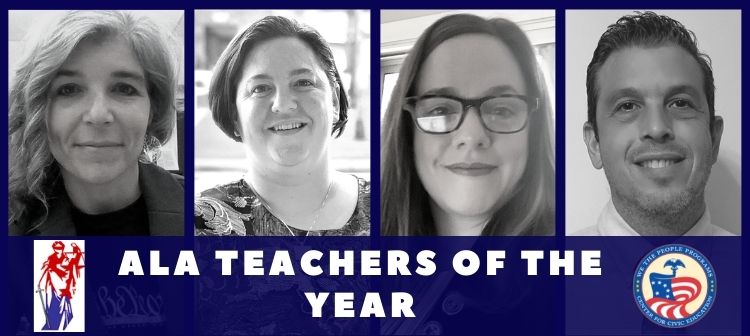 Four We the People Teachers to Be Honored in American Lawyers Alliance Teacher of the Year Awards Ceremony
The American Lawyers Alliance (ALA) recently announced the four winners of their Teacher of the Year awards, who will be honored in a virtual ceremony on August 11. This year's four awardees have all participated in the We the People program at the local or national level, or both. 
Kelley Brown of East Hampton High School, Trish Everett of Pine Crest High School, and Suzanne Kammerman of Staples High School will receive the 2021 Law-Related Teachers of the Year awards.
Upon receiving word about the award, Brown stated, "I am incredibly honored to receive this award on behalf of the exciting law-related programs I have been able to develop over the past year." Brown also said, "I am so thankful for the amazing volunteers and alums that have helped to build an incredibly successful We the People program at Easthampton High School that is preparing students to become leaders, citizens, and educators." 
Everett was named to the Center's National Advisory Council this year, which is composed of leaders spanning various fields, all dedicated to the Center's mission to develop an enlightened citizenry.
Kammerman launched the We the People program at Staples High School in 2015, and has seen tremendous success with her team placing first the last two years at the state level and placing fifth at the national competition in 2020.
A fourth awardee, Albert Paulsson of West Windsor-Plainsboro High School, will be awarded the Lillian B. Jarvis Teacher of the Year award, a new award made at the bequest of an ALA member on her passing for teachers in Title I schools. Paulsson's We the People team took second in the New Jersey competition in 2021, and received an invitation to the national competition.
The ALA will hold the virtual Teacher of the Year award ceremony on August 11, 2021, at 11:00 a.m. CT. During the ceremony, each teacher will receive a framed certificate and prize money, and they will speak about their experiences. If you'd like to attend the virtual ceremony, use this Zoom link to join.