We the People Enhanced Ebook (Motus Digital Publishing Edition)

The Level 3 (high school) enhanced ebook edition of We the People: The Citizen & the Constitution makes the Constitution and American government accessible to a new generation of learners with engaging visuals and interactive technology that illustrate the fundamental principles of American democracy. This ebook edition is cloud based and accessible on Chromebooks, Macs, PCs, desktops, and laptops using modern browsers. Purchase of the ebook also allows subscribers to access the ebook on mobile devices, including Apple iPads and iPhones, Android tablets and smart phones, and Windows touch-screen devices. We the People is aligned with the Common Core State Standards for Literacy in History/Social Studies. © 2014. Watch videos of the ebook in action. Try the ebook for free today!




Ebook Features

Interactive multi-touch experience
Scholarly videos
On-page video guide
Audio narration
Historical photos
Content rich (six units and 39 lessons)
Perfect for flipped instruction
Works with Chromebooks, Macs, and PCs


Tools

Student exercises and tests
Teacher tools
Student/teacher communication
Student portfolio
Notepad, highlighter, draw
Testimonials
Complimentary 28-day trial subscription

Download the one-page information sheet (pdf)
Download the User's Guide (pdf)
Apps

Subscribers to the We the People enhanced ebook can access their subscription online or through free apps available from iTunes or Google Play. The iTunes app allows users to read their ebook using an iPad or iPhone; the Google Play app enables access on Android tables and smartphones. A paid subscription is required.


Ebook Pricing and Purchasing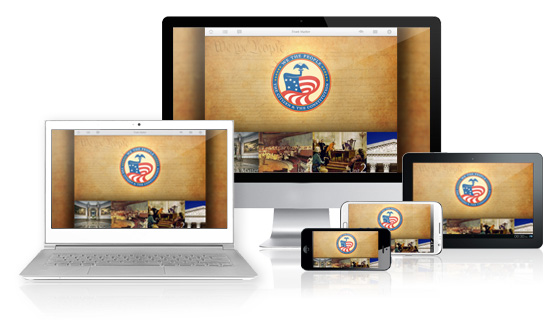 The enhanced ebook is available through Motus Digital Publishing and Houghton Mifflin Harcourt.

Pricing is only $9.95 per user, per year.

Here's how our simple subscription model works: If a school buys 30 licenses for 30 students, the licenses can be used for a different 30 students each semester during the one-year subscription period.


Content questions:
Robert Leming
We the People enhanced ebook is aligned with the Common Core State Standards for Literacy in History/Social Studies. The enhanced ebook correlations were performed by Houghton Mifflin Harcourt. Download the correlations in printable pdf format by clicking on the buttons below.

We the People enhanced ebook (© 2014)




Want to learn more about the
We the People
enhanced ebook? These videos, created by Center partner Houghton Mifflin Harcourt, describes the extraordinary interactive features of the world's most sophisticated civics and government textbook.
Over 24 years of teaching, I've seen a lot of texts for civics, and to me, yours are clearly the best.
—Michele Galla, Alaska Learning Network
The new ebook is incredible. It demonstrates the importance of history and civics in our everyday lives. It is a text that is both sophisticated and basic, a teaching tool that can be used by honor students and students with reading disabilities.
—Clara L. Slifkin
The Center for Civic Education's new We the People enhanced ebook is a superb teaching tool for those educators using this technology. This ebook will certainly enhance the student's reading experience and it will engage them as they encounter the content.
—Dick Kean, Wyoming Project Citizen Coordinator
In my opinion, the Center has successfully transformed its flagship into a starship that should gain new users, retain loyal users, and provide all with an enhanced alternative to print that is durable, affordable, and easy to access and store. I signed in on my first try—a unique experience for me online. I navigated the book with ease. I was impressed with the book's appearance in terms of layout and design. The lady in red is a welcoming guide without being a distraction. The content remains strong; the pedagogy solid.
—Stephen Schechter, Professor of Political Science and History, Russell Sage College
Yet another quality civic education resource from the Center for Civic Education, one of our nation's premiere civic education organizations. I have used all three levels of their texts with my 5th grade students and found them to be an invaluable tool that's both engaging and well-written.
—Jim Bentley, Teacher, Teacher, Elk Grove Unified School District, and Executive Director, Curiosity Films